A special message from the Dean of St Davids Cathedral to the American Friends of St Davids Cathedral.





A model spiritually renewing pilgrimage to St Davids Cathedral was in May 2008; click here for our report.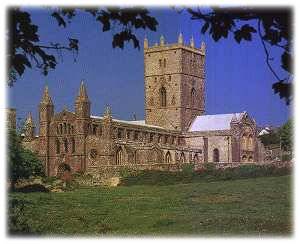 Built on the site of St David's own monastery, St Davids Cathedral is the spiritual center of Christianity in Wales. It stands on a wind-swept peninsula jutting out into the Atlantic but hidden away in a sheltered valley, flanked by the ruins of the mediaeval Bishop's Palace and surrounded by its walled mediaeval close. Indeed, one's first sight of St Davids Cathedral is surely a dramatic and unforgettable experience.
Early Christians had a strong presence in the area, none more so than the 6th-century St David himself, one of Pembrokeshire's most famous sons. His bones, along with those of the St Justinian, are said to lie in the cathedral of Britain's smallest city.
The Cathedral hosts 300,000 pilgrims and visitors each year, many of them from North America. Other Americans feel connected to St Davids through their Welsh ancestry or through their study of the men and women in Southwest Wales who were faithful to the Gospel during periods of civil and religious unrest.
For reasons as diverse as the persons drawn to St Davids, then, we desire a symbol of our affiliation with the Cathedral: its history, its role in the public ceremony and conscience of Wales, its presentation of art and architecture and its ongoing commitment to excellence in both choral and organ music, and its ministry and outreach to "town and tourist." While the 1,200 residents of the City of St Davids comprise Britain's smallest city, our world-wide friends, united with us in prayer and devotion to this site, comprise an extended family. Many come to the Cathedral close only to sense that they have come home.
Within the non-profit mission of The American Friends of St Davids Cathedral to extend the Cathedral's circle of friends throughout the United States:
| | |
| --- | --- |
| | In recent years, we participated in the Cathedral's Millennium Appeal by contributing the two new tower bells (click to see photos of the installation and blessing of the bells) that were installed in the gate house. |
| | In 2007, we helped the Cathedral in funding the recent renovation of the Cloisters. |
| | More recently, our goal has been to sponsor at least one day of the Cathedral's ongoing mission and ministry each year. For 2011-2018, thanks to fine donor support we tripled our goal and sponsored three days. |
| | Recently the American Friends honored a great friend of, and pilgrim to, the Cathedral who recently passed from this life. Sr. Cintra Pemberton (also known as Cintra Shober Austin) led many a pilgrimage to St Davids Cathedral and introduced many Americans to Celtic spirituality and the love of Wales. She also was an early member of the AFSDC Board. The donations made in her honor went to support the Cathedral's ongoing ministry of pilgrimage and hospitality, and recognize Sr. Cintra's tireless efforts of touching many lives with a plaque at the Education and Pilgrimage Centre, Ty'r Pererin. |